Chilled Pea Soup Shooters
---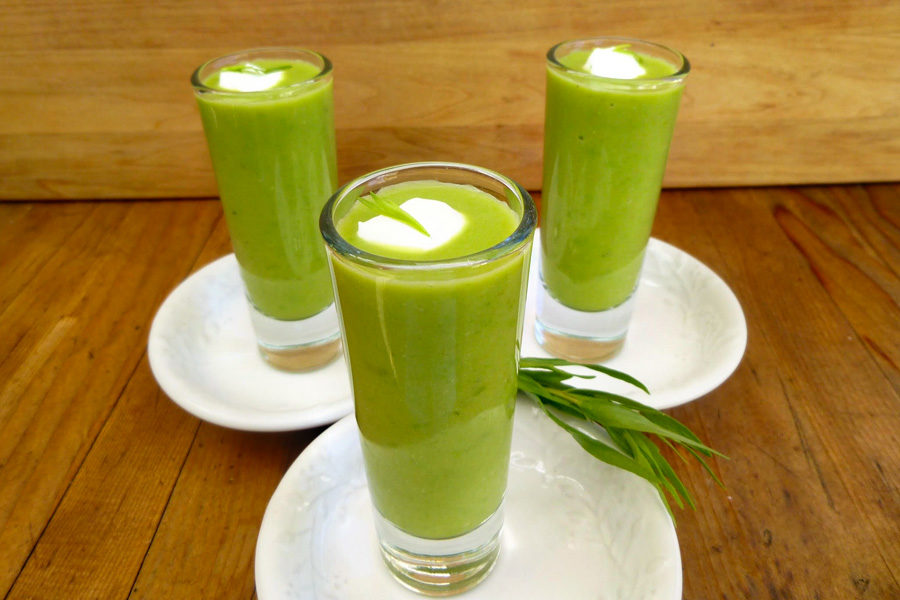 Chilled Pea Soup Shooters
Yield approximately 7 cups
Note: This is a fun and unexpected appetizer or it can be a first course dish. I use frozen organic petite peas but you can use fresh peas also. You'll get about a 1 cup yield of peas from every pound of pods so you will need three pounds. If you use fresh peas they will need to be blanched until tender and then shocked in cold water to stop the cooking. The addition on dried split peas keeps the soup from being too sweet.
Soup 
1/4 cup unsalted butter
2 medium leeks, about 3 cups, cleaned and thinly sliced
2 ribs of celery, about 1 cup, thinly sliced
1 clove garlic, crushed and coarsely chopped
1 teaspoon Savor
3/4 cup dried green split peas, covered in water and soaked overnight
5 cups vegetable stock
1 sprig fresh thyme
1 pound frozen organic petite peas, about 3 cups
1 teaspoon chopped fresh tarragon
Method
In a Dutch oven or large sauce pan, melt the butter over medium heat.  Add the leek, celery, garlic and Savor and cook for about 5 minutes until the vegetables are softened but not browned.
Add the dried peas, stock and thyme. Bring just to a simmer and cook uncovered for 40 to 45 minutes or until the peas are very soft.  Remove from the heat to cool for about 10 minutes.
Add the frozen peas and stir.
Transfer to a blender and puree for 3-4 minutes until you get a very smooth mixture.
Pass the soup through a fine strainer into a bowl .
Taste the soup for seasoning, adding more Savor if needed. Stir in the tarragon, cover and chill.
Topping
1 cup creme fraiche
1/2 teaspoon Meyer lemon zest
1 1/2 teaspoon Meyer lemon juice
1/4 teaspoon Savor
1 teaspoon finely chopped tarragon plus extra leaves for garnish
Combine all the ingredients together in a small bowl. Refrigerate until ready to use.
To serve ladle soup into shot glasses (or bowls) top with a little of the creme fraiche mixture and a tarragon leaf.